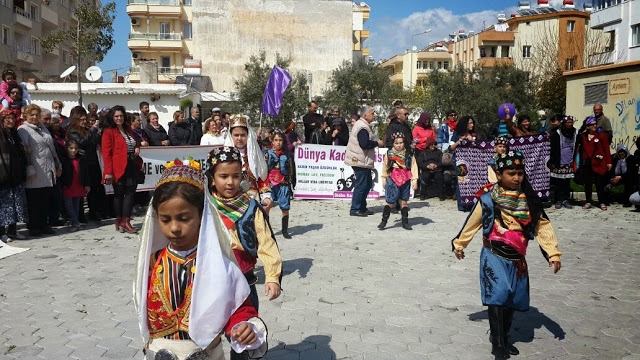 JINHA
IZMIR – The World March of Women has bid farewell to Turkey, with its final farewell in Izmir.
The march, the fourth international action organized by the international women's movement coalition, started in Nusaybin, on the border between Turkey (Northern Kurdistan) and the Rojava canton of Cizîrê. Yesterday evening, after touring the villages of Izmir province and joining in solidarity protests for the environment during the day, the women set out for Thessaloniki—with a new surge of attendees.
While in Turkey, the march participated in solidarity actions with women taking part in environmental and labor struggles in nine cities and dozens of villages, towns and neighborhoods. Women in resistance across Kurdistan and Turkey have greeted the incoming march with a festival atmosphere. Traditional dancing, pipes and drums and festive marches have met the women over the course of the trip.
"We will make the resistances already existing everywhere visible and develop alternatives to today's dominant accumulation model," said the March's statement.
The last few days have been busy ones for women participating in the march. On March 14, in Muğla the women commemorated women lost to femicide and mounted a plaque in commemoration of famous environmentalist Saynur Gelendost. On March 15, in Didim, women visited the Cemevi (Alevi religious center) for music and experience. They then planted saplings sent by working women in South Africa.
The march aims to honor history and culture.The women visited historic sites on the road to Izmir—the Apollo Temple, Ephesus and the church of the Virgin Mary.
Izmir was the final stop in the march's 10-day trip across Turkey. Women held a series of workshops on topics ranging from violence and militarism and women's work to ecology and peace. Women marched with the accompaniment of drums and dancing from Konak Square to Gündoğdu Square in the Aegean city, ending with concerts and dance performances in the square.
Yesterday, the march visited villages in the region of Izmir. They joined in solidarity with women in the village of Gökçealan struggling against the construction of a quarry.
The march will continue crossing Europe, ending in Portugal in October, "uniting one resistance to another, adding one struggle to another, challenging borders that divide our bodies, struggle and land."